Conference Theme
---
The theme for the 2018 conference, "Global Collaboration for Sustainable Development", will celebrate iEARN's 30-year history of people and projects that have changed the world while also envisioning a future where educators and youth work together to build a more peaceful and sustainable world.
In 2015, iEARN integrated and aligned all iEARN projects with the United Nations Sustainable Development Goals (SDGs). The 2018 Conference and Youth Summit will continue iEARN's effort to bring together educators, students, and partners to meet and discuss how they will continue to achieve SDGs through global, collaborative project work.
2018 Conference Goals and Sub-themes
---
2018 Conference and Youth Summit Goals
Build global citizenship and engage conference and youth summit participants in the Sustainable Development Goals through the conference theme, "Global Collaboration for Sustainable Development"  -  Bring together the iEARN community and supporters to share global project-based learning experiences and best practices  -  Celebrate iEARN's 30th anniversary and it's history of people and projects changing the world
Conference Sub-Themes
Collaborative Projects for Sustainable Development  -  Youth Action and Leadership in SDGs  -  Service Learning through Collaboration  -  Teaching and Learning Strategies  -  Building Leadership for Global Education  -  Impact of Projects and Exchanges  -  Project Design and Facilitation  -  Technology for Collaboration and Exchange -  Diversity and Inclusion in Global Education
---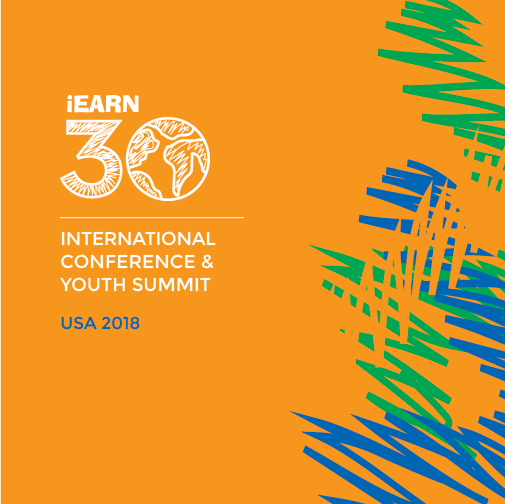 Tech/Innovation Lab: The Tech Lab is a space to explore new technology tools to use in the classroom. Presenters will be stationed around the room and share their favorite tool (like Zoom, FlipGrid, Padlet). Attendees will walk around and ask them questions to get hands-on experience and learn how to use new technology tools.

Ignite-Style Talk: Presenters get 5 minutes and must use 20 slides with each slide advancing automatically after 15 seconds, forcing speakers to quickly and succinctly deliver their message. Ignite-style talks can be about a project experience, idea for a new project, exploration of a tool, or strategies for collaboration.
Interactive Workshop: Interactive workshops engage participants actively in learning new information or techniques. These workshops are hands-on and activity-based.
Roundtable: These sessions are set in an informal environment. The facilitator introduces a topic and then he/she facilitates a discussion. Attendees engage in discussion, collaborate, and learn from one another.  
Poster: Create a display that shares your project, training, or global education work. Posters summarize information or findings in a creative, visual format and generate discussion among viewers.
Sign-up for the iEARN-USA email list to receive proposal submissions updates.
---